Welcome To The Cloisters
Southern Serenity is pleased to offer custom home building on one to five acre lots in The Cloisters neighborhood. The subdivision is aptly named because this lovely master-planned community is secluded among beautiful rolling hills. An abundance of virgin forest adds to the allure of this community. The lots are planned around the natural contours of the land, creating a relaxed and uncontrived setting for each sophisticated home.

The Cloisters is located in the heart of Hickory Withe, a delightful community in Fayette County, Tennessee. The subdivision is designed with a host of features that include nature trails, passive parks, and gorgeous lakes that add serenity to the area. Southern Serenity offers a choice of building designs that are ideally suited to the rolling wooded lots. There are seven stylish home plans ranging in size from 3,162 square feet to 4,230 square feet.

Clients can choose to build a custom home by selecting one of the Southern Serenity floor plans or, if one is available, buy a move-in ready home. Each stylish Southern Serenity home is built with impeccable quality and a variety of features and details designed to ensure the homeowner's ultimate comfort. They include features like a salon bath, large breakfast area connected to the family room, play room, and/or bonus room. Each house style also has beautiful street appeal which makes coming home an enjoyable experience the minute the homeowner turns into the driveway.

Neighborhood features include:

Underground utilities
Protective covenants and restrictions
Strict architectural controls managed by The Cloisters Architectural Control Committee
Low Fayette County taxes
Homeowners Association

The Cloisters is a Renaissance Development project.

Though secluded, The Cloisters offers easy access to Interstate 40, which forms the northwest boundary of Hickory Withe, while Interstate 269 touches the farthest southwest corner of the community. Memphis is only 33 miles from Hickory Withe and is easily reached via I-40 W. Homeowners, who work in Memphis can leave the big city behind each evening, knowing a dream home, nestled in a beautiful setting, waits.

Serenity Homes works closely with homeowners to ensure the home they choose is built to meet the highest quality standards. From the beginning to the end of the project, attention is given to every detail. This is an excellent opportunity to live in a community where the home meets every expectation and nature is only a few steps away.

To schedule a tour of this neighborhood and to discuss various options in housing styles and the building process, please call 901-466-1991.

Southern Serenity is proud to offer these stylish floor plans within The Cloisters Community.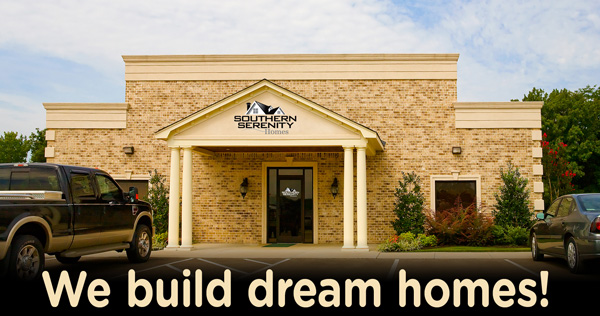 CONTACT US
To meet with our sales team about an existing home in one of our communities, or our design team about building your own dream home, please contact us by phone or e-mail. We will get back with you as soon as possible during regular business hours.